Herring salted at home — 14 very tasty recipes
No laid table for the holiday can do without salted herring. It hurts our Russian people to love such a snack. So how can you not love her? Cleared of bones and skin, cut into pieces, seasoned with butter and fresh thin sliced ​​onions — this is such a yummy that you cannot describe with words.
Why are there a festive table ?! And on weekdays, salted herring is good. Boil the potatoes, season with butter, but serve on the table with our beloved fish — hardly anyone would refuse such an evening meal.
And our favorite New Year's salad «Herring under a fur coat» is completely inconceivable without this wonderful fish. As well as the fact that on the New Year's table there is always this wonderful snack. And there is probably no point in talking about the merits of the herring, it is loved by adults and children even without any advertising.
Now the shops sell very tasty herring, but many prefer to salt it on their own. Yes, this is understandable, it is still considered that everything that is cooked at home is tastier and healthier. Probably the way it is! And that is why today there are many homemade ways of salting this fish. Let's take a look at some of them.
I have been collecting recipes for salting herring for more than one year. I tried different options. And today I want to share with you the most delicious of them. Hope you like them!
Salt herring can be in brine or brine, and there is a dry salting, which is the simplest. Herring can be salted as a whole, or in pieces. Salt it with oil, mustard, lemon, vinegar, onion and even add carrots.
Salted herring is considered to be salted 24-36 hours. If the fish salted in time longer, then every day it will become more and more salty, and salted is no longer considered.
In order for the herring to be tasty, you must be able to choose it correctly. From the freshness of the fish and the knowledge of some of the features depends on how our favorite dish will turn out.
It is best to choose a large and fat herring. Someone thinks that it would be nice if this turns out to be a "boy" with milt. «Girls», although usually well-fed, but give all their fat to caviar. In any case, it is considered so. But here, as they say, "to the taste, to the color …" Personally, I prefer the herring "girl" more; it seems to me more tasty and tender.
The fish must be intact, without torn skin, cuts and injuries, with whole fins. Also see that it is not crushed and crushed.
The freshness of the fish is determined by the eyes and gills. Fresh herring has red gills and bright, glossy and bulging eyes. Sometimes, to hide the freshness of the fish, the head is cut off from it. Try not to take such a fish.
If the fish froze, and then thawed and froze again, then its flesh will be soft. From the purchase of such a fish is better to refuse. If it is salted, the pulp will fall apart, all the bones will be exposed. The fish will lose its appearance. Yes, and it certainly will not be delicious. Besides, eating such fish can be dangerous. After all, we do not know how much she lay unfrozen.
if you want to pickle frozen fish, you must first defrost it. Do not use warm or hot water for this, nor use a microwave. Fish should be allowed to defrost gradually, and in natural conditions. It is best to defrost it in the refrigerator. Well, or in extreme cases at room temperature.
In my opinion, most people salt fish in brine. And there are many ways to salting. Every now and then at work you can hear — "Oh, such an interesting new way of salting herring was found, just delicious!" And they wear a small fish to try out to their fellow workers. And we are happy to try, but praise.
Let's see what ways exist.
Spicy salted fish whole classical recipe
herring — 2 pcs
water — 1 liter
salt — 2 tbsp. spoons
sugar — 2 tbsp. spoons
Peas — 10 pcs
Allspice — 4-5 pieces
Clove — 4-5 pcs
2-3 bay leaves
1. Clean the herring from the entrails and thoroughly rinse. It is better to leave the head, but the gills must be removed, they will give a bitter taste to the brine. If there is caviar in the fish, clean it carefully, then it can be salted with herring.
Sometimes milk is also salted, someone loves them. If you want, you can wash and leave them.
2. Prepare brine (tozluk). To do this, we put boiled water as soon as it boils, add salt, sugar and spices. Let it boil for 3-4 minutes. Turn off the heat and allow the brine to cool completely.
3. Prepare a container for the size of the fish, put herring into it, fill with brine. Put also caviar, and who left — milk. Allow the fish to soak in brine at room temperature for 3-4 hours. Then put in the fridge.
4. Milk and caviar will be ready in 24 hours, and fish — in 48 hours. It is better to get caviar in a day and eat it, because after 48 hours it will get too salty, the same applies to milk.
herring — 2 pcs
salt — 2 tbsp. spoons
sugar — 1 tbsp. spoon
vegetable oil — 1 tbsp. spoon
1. Clean the herring, remove the insides and gills. If you want, you can leave the eggs and milt. Rinse the herring and caviar.
You can cut the fish into pieces, and you can leave the carcass and the whole, do as you like. I cut the pieces. I like when every piece is lightly soaked with butter.
2. Put water on fire. As soon as the water boils, put salt and sugar in it. Stir until dissolved. Turn off the heat and cool the water.
3. Add oil to the water. Put the fish in a glass or plastic container and fill it with brine. Close the lid.
4. Store for 3-4 hours at room temperature, then refrigerate for 3 days.
herring — 2 pcs
water — 1 l
salt — 5 tbsp. spoons
sugar — 3 tbsp. spoons
coriander grain — 1 tbsp. spoon
dill (can be dried) — 1 tbsp. spoon
bay leaf — 8 pcs
black pepper peas — 15 pcs
Allspice — 4 pcs
mustard — 2 tbsp. spoons
1. Clean the herring from the entrails. If you leave the head, then be sure to remove the gills. They will give a bitter taste to the pickle and the herring itself.
And you can make herring fillets, and cut. It will also be very tasty. Each piece will be in mustard, and it will be very tasty.
2. Boil water and add salt, sugar and all spices except mustard. Let it boil for 3-4 minutes. Then turn off the fire and cool the brine.
3. Coat the cleaned carcass with mustard. Put in a special container with a tight-fitting lid.
Thanks to the mustard, the herring will be not only tasty, but also elastic and strong.
4. Pour the cooled brine. Leave for 2-3 hours at room temperature. Then put in the fridge for 48 hours.
herring — 2 pcs
water — 1 liter
salt — 5 tbsp. spoons
sugar — 3 tbsp. spoons
black pepper — 10-15 pieces (can be crushed coarsely)
mustard dry — 1 tsp
bay leaf — 4-5 pieces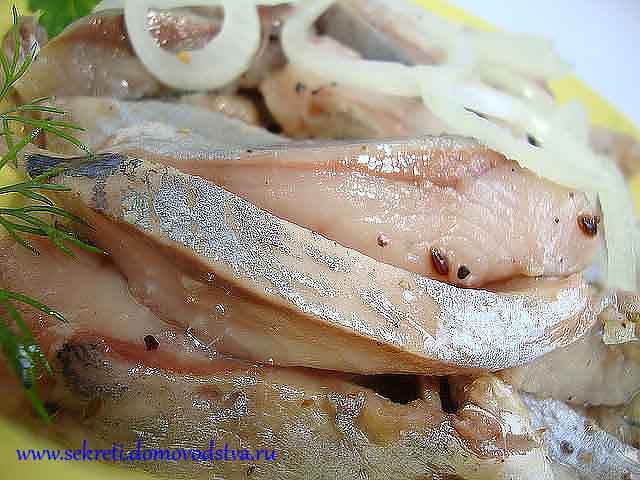 1. Clean the fish and if you leave the head, remove the gills. Rinse well under running water.
2. Boil water, add salt, sugar and spices. Let it boil for 3-4 minutes, turn off the heat. Let the brine stand to cool.
3. Put the herring in the prepared container and pour over the cooled brine. Top with mustard and mix a little so that the mustard gets wet.
4. Let stand at room temperature for 2-3 hours. Then put in the fridge for 48 hours.
herring — 2 pcs
water — 250 -300 ml
salt — 1 tbsp. spoon
Vinegar 9% — 1-1.5 st. spoons
Peas — 10 pcs
bay leaf — 3 — 4 pcs.
coriander seeds — 1 tbsp. spoon
vegetable oil — 3 tbsp. spoons
1. Clean the herring, remove the head, and if you pickle it with your head, then only the gills. Rinse in cool water. And you can salt the fish and with the entrails. But it's better to remove the gills anyway.
2. Bring water to a boil. Pour salt and spices, boil for 3-4 minutes and turn off the heat. Let the brine cool.
3. Add vinegar to the cooled brine.
4. Put the fish in a special dish and fill it with brine. Allow to lie at room temperature for 4-5 hours. Then put in the fridge for 7-8 hours.
herring — 1 pc
water — 500 + 250 ml
Vinegar 9% — 1 tbsp. spoon
salt — 3 tbsp. spoons with a slide
Peas — 7-8 pcs
bay leaf -2 pcs
onion — 1 pc
sunflower oil — 2 tbsp. spoons
1. If frozen herring is used, do not thaw it to the end. Thaw to a state. so you can easily clean it from the entrails. Remove the head.
2. Clear skin and remove bones. Cut the fillet into pieces.
3. Mix 500 ml of water at room temperature with salt. Pour the chopped fish and leave to salt for 1.5 hours. Then drain the water.
4. Mix 250 ml. water with vinegar and pour a mixture of fish. To sustain 5 minutes, then drain the water. Leave, we still need it.
5. Add onions, bay leaf, crushed large peppercorns. Pour over the oil and the remaining water with vinegar.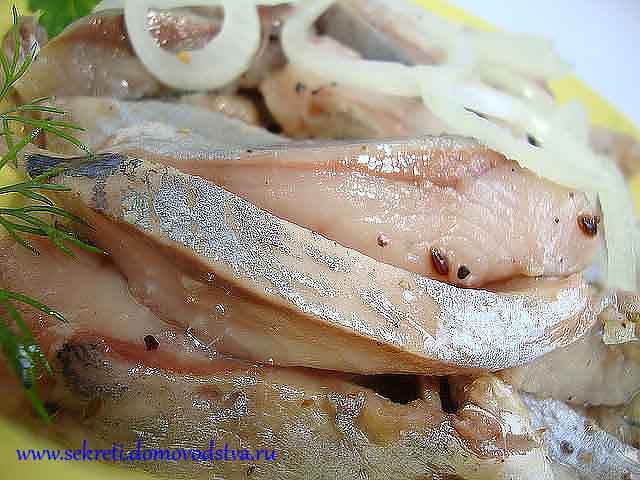 6. Let stand 30-40 minutes. Then you can eat.
How quickly and tasty to pickle herring in brine whole
And according to this recipe, herring can be pickled in just 24 hours.
herring — 2 pcs
water -1 l
salt- 3 tbsp. spoons
sugar — 2 tbsp. spoons
Peas — 10 pcs
Allspice — 10 pcs
coriander seeds — 1 tsp
bay leaf — 3 pcs
1. Remove gills from fish and wash them thoroughly. We do not remove the insides.
2. Boil water and add all the spices, salt and sugar. Boil for 3-4 minutes. Then cool the brine.
3. Put the herring in a special container for pickling and pour over the cooled brine.
4. Refrigerate for 24 hours.
After 24 hours, herring is completely ready to eat. Very tasty and tender.
Dry salting salting herring at home
This is the easiest way to pickle herring.
herring — 2 pcs
salt — 2 tbsp. spoons
sugar — 1 tbsp. spoon
1. Clean the fish from the entrails, remove the head and remove the skin. Divide the herring into two halves, cleaning the ridge and all large bones. It should make two fillets.
2. Mix salt and sugar. Coat the fillet mixture. Put on a plate and leave at room temperature for 6-7 hours.
3. Transfer the fish to a container and close tightly to a refrigerator for 48 hours.
herring — 2 pcs
salt — 2 tbsp. spoons
sugar — 1 tbsp. spoon
coriander beans — 1 tsp, or ground — 1 tsp without a hill
black pepper peas -7-8 pieces (chop)
bay leaf — 2 pieces (chop)
1. Fish gut, remove the head, remove the skin and remove large bones. Divide the carcass into two parts.
2. Mix all the spices. Spread the herring on them.
3. Put the fish in the package, tightly wrap. Leave to lie at room temperature for 5-6 hours. Then put in the refrigerator for 48 hours.
herring — 2 pcs
salt — 1 tbsp. spoon
sugar — 1 tbsp. spoon
ground black pepper — 1/3 tsp
crushed bay leaves — 2 pcs
To cook fish according to this recipe, you need to have only fresh herring, since the time of its salting is only 2 hours.
1. Gut herring, remove the gills and put it in cold water for 1 hour.
2. Mix the spices.
3. Pull the fish out of the water and wipe from all sides with a mixture of spices, salt and sugar.
4. Wrap in foil and leave to salt at room temperature for 2-3 hours.
The same method can be salted herring without the use of spices, only with the help of salt and sugar. But an indispensable condition for salting fish in this way — FISH MUST BE MANDATORY FRESH!
5. Peel the spices and cut the fish into slices.
herring — 2 pcs
salt — 4-5 tbsp. spoons
onions — 2 pcs
oil — 5-6 tbsp. spoons
1. Clean the fish, remove the head, free from bones and skin. It should be a boneless filet.
2. Onion cut into thin half rings.
3. Grate the fillet with salt. Put in a prepared container, you can in the bank. Alternate each layer with a bow.
4. Fill with oil. Let stand at room temperature for 1 hour. Then put in the fridge for 48 hours.
herring — 2 pcs
salt — 2 tbsp. spoons
sugar — 1 tbsp. spoon
lemon — 2 pcs
bay leaf — 4-5 pieces
black pepper peas — 10 pcs
Allspice — 5 pcs
1. Clean the herring from the entrails, skin, bones and head. Rinse it thoroughly.
2. Mix salt and sugar. Cut lemon into slices.
3. In a small saucepan lay out layers of herring, lemon circles, sprinkling with a mixture of salt and sugar and spices.
4. Put a saucer and put a jar of water on it as a press. Refrigerate for 24 hours.
5. After the allotted time, remove the pan, mix the layers and leave in the fridge for another 24-48 hours.
By the way, they like to eat herring not only with us. In Holland, for example, she is also very fond of and knows how to cook tasty.
herring — 2 pcs
sugar — 6 tsp
onions — 2 pcs
lemon — 0.5 pcs
carrots — 1 pc
bay leaf — 10 pcs
8-10 peas
1. Thaw and gut fish. Remove the head, remove the skin and remove the bones.
2. Cut the finished fillet into 2 cm wide pieces.
3. Cut lemon into thin slices, grate carrot on a coarse grater. Onions cut into rings or half rings.
4. Prepare a jar and spread everything in layers in such a sequence — onion, bay leaf, some grated carrots, lemon, whispering sugar and some pepper. Then a layer of chopped herring
5. Then the next layer in the same sequence and so on, until the ingredients run out, or until we reach the end of the jar.
6. Close the jar with a tight lid and send to the fridge for 3 days.
7. When serving, lay the fish in the herringbone and pour it with oil. If it is necessary to salt, then you can salt right in the herring bowl.
Fish turns out just amazing! Very tender, juicy, fragrant and incredibly tasty!
light-salted herring — 2 pcs (fillet — 4 pcs)
pickled gherkins — 5 pcs
Bulgarian pepper (red) -1 pc
onion — 1 pc
mustard — 2 tbsp. spoons
white wine vinegar — 100 ml.
mustard seeds — 2 tsp
Carnation — 3-4 buds
sugar, salt — 1 tsp.
ground black pepper — 0.5 tsp
1. Prepare the marinade. To do this, boil water. Add salt, sugar, pepper and cloves. Boil all together for 2-3 minutes. Cool broth slightly.
2. Add mustard and wine vinegar. Stir and allow to cool completely.
3. Onions, bell peppers and gherkins cut into long thin straws.
4. Each layer of the filet slightly beat and grease with mustard. If the herring is very large, then the fillet can be carefully cut into two equal halves.
5. Put the onion, pepper and gherkins across the herring stratum.
6. Roll into a roll, fasten with a toothpick.
7. Put rolmopsy in the bowl and pour the brine. Leave at least a day to pickle. But it is best to keep them in the refrigerator for 2-3 days.
Secrets of cooking delicious salted herring at home
Herring for salting is better to choose the oceanic, coastal seas are often polluted by waste and harmful toxins.
The herring must be either chilled or frozen, but care should be taken that it is not old. Fresh fish has a natural silvery color, bulging eyes of a light color, fins and gills tightly pressed to the body. Therefore, to determine the freshness of the fish, do not buy it without a head.
Should choose a large, not having mechanical damage to the carcass, better «boys». Although it should be noted that this issue is very controversial. The «girls» meat is more tender and light.
It is also believed that the herring caught in the winter season heats up more fat, so after salting it will be more tender and tasty. For salting, you must choose a large silver carcass with a uniform color, then the snack will always turn out — that is necessary!
Frozen fish should not be thawed in warm water and a microwave, but only at room temperature. Or even better in the refrigerator, at a temperature of +4 degrees. To the defrosting process occurs naturally.
Salt can and gutted carcass and not gutted. If you salt the whole fish, it is better to leave the head, you just need to remove the gills. They give a bitter taste when salting. After cleaning, the herring should be thoroughly rinsed in a large amount of running water.
Herring is salted both whole and in pieces. With skin and bones and without them.
Often, whole peeled carcasses are kept for 30-60 minutes in cold water. In this case, the herring becomes even juicier.
When salting do not use iodized salt.
You can salt the fish in a glass, plastic or enamel pot. It is desirable that the container was with a well-closed lid. Otherwise, the refrigerator will smell like fish.
For dry salting, a plastic bag or food film is used.
After several hours of keeping the fish at room temperature, it should be stored in the refrigerator.
Herring is the most delicious, salted entirely with the entrails. Such a herring must be salted for at least three days and can be stored in saline for a week.
If you do not want to wait so long, you can clean the fish fillets, cut into pieces and pickle. Such fish will be ready in a few hours.
If the herring is not eaten during this time, then it must be removed from the brine, cut into pieces, put into a jar and sprinkled with oil.
If for some reason you have oversized the herring, or it has been too long in brine, then it can be soaked in cold milk for two hours. Excess salt will be released into the milk, and the herring will be tasty again.
Of course, before serving, especially if you are preparing to welcome guests, you should clean the herring.
Serving herring with bones and skin is very ugly! This disrespect for the guests, and discredit you as the mistress of the house!
Moreover, it is not difficult to do this. On the back should make an incision and pull the tip of the skin. As a rule, the skin is cleaned quickly and easily. Also, the ridge and bones are easily and simply removed. But it is better to see once than hear a hundred times.
The most famous and tasty way of serving is to cut the herring into beautiful even pieces, sprinkle it with onion, cut into rings or half rings and season with vegetable oil. For those who like spicy food, you can sprinkle freshly ground pepper on top.
Often herring is seasoned not only with oil, but also with freshly squeezed lemon juice. Also lemon can decorate the dish with herring. And then, each at will, can season the fish with lemon juice.
The dish is also decorated with fresh greens, green onions, cranberries, olives or olives. It looks always beautiful, and only adds appetite.
For holidays such as the New Year or Birthday, you can serve herring on prefab fish plates. In addition to the above ingredients, you can decorate with fresh or pickled cucumbers, tomatoes and even canned mushrooms. Such plates look very beautiful, and are always very popular among snacks.
Herring is served as a potato, which is pre-boiled either in a "uniform", or peeled and cooked in whole or in pieces. You can apply this fish to fried, baked potatoes and even mashed potatoes.
Salted herring is very widely used in the preparation of various appetizers and salads. Sandwiches and canapés are prepared using it. There are a lot of options, and if you wish, they are easy to find on the Internet.
Made from herring and tasty herring oil or a more complex snack called forshmak.
And no matter how you serve herring, it is always a wonderful snack and an irreplaceable dish of the festive table. And of course, the one that cooked on its own always seems the most delicious.
I did not know that there are so many ways of salting herring.
Thanks for your advice.
Andrew, in fact, there are many more. Here I tried to collect only the simplest and best recipes.
Margaret, as always, the selection at height! I also prefer salt herring itself. We have to buy ice cream. The result is always pleased. I do as a dry ambassador, and in brine. But the spicy is not very much.
Thank you, Natalia! Yes, here are recipes for every taste. Therefore, I offered different options so that everyone could choose a recipe to their own taste! I also like the usual ambassador, without different spices. In my opinion, this is the best option for salting!
Excellent selection of recipes, very detailed and with photos. Margarita, as always, clever.
Thank you, Natalia! Everyone loves herring, and therefore there are many recipes. I have in my piggy bank some more recipes, but they are already somewhere and in something — a repetition of the proposed ones. Therefore, stopped at these!
Again you have a big article full of examples and recipes. I found what I need — pickle herring in pieces. then to take a piece and eat, and let the rest lie down until the next desire to touch them. I like it.
Thank you, Irina! Yes, indeed, although they say that salting herring is best of all. But it is more convenient to eat all the same slices.
Well Margarita, what a cool collection of salted herring you offered here. We seem to live here with herring, but so many recipes have never been used. You surprised me. Thank.
Thank you, Vladimir! Yes, indeed, the ambassador of the herring can be chosen by anyone to your liking. I think that everyone can find this easily.
I probably came to smell the fish. I love it very much, and also often salt itself. Thanks for the recipes, we will experiment. With some already familiar.
How many recipes — always from the variety of eyes ran. Thank you for this selection.
Soon the New Year, Svetlana, we will all salt herring. Therefore, someone may need a recipe!
Good afternoon, Margarita! Your herring pickle recipes really look very appetizing. Hopefully, the salting qualities are unique. He himself repeatedly tried to salt herring both whole and in pieces according to recipes,. The problem is that herring bones are extremely poorly separated from the pulp after salting. Can you please tell me what you need to do if you have encountered such a problem? Thank!
Vadim, hello! Thanks for the comment and question! When you cook a lot, you come across all sorts of problems. And of course, I also had to deal with such a problem. It is usually quite easy to separate herring from the bones, but sometimes it happens that bones can be removed only with meat. At the same time, the cleaned carcass does not look quite aesthetically pleasing, and the hand does not raise such a table. As a rule, I encounter such a problem when I buy salted herring in the store. If the salt itself, then this happens very rarely. The question is why? There may be several reasons.
Firstly, for salting, you should choose only fresh fish, preferably chilled. If you bought frozen, then you need to check that it does not freeze and not thawed several times. If this happens, the flesh of the fish will be loose and gently pull out the bones from such a carcass will not succeed. That is, when choosing a herring, determine its freshness by indirect signs. About them is written in detail in the article.
Secondly, if the fish was bought fresh, but it was incorrectly defrosted, that is, they used water or a microwave for this. The fiber structure of the meat will also be damaged.
Thirdly, salting should be done with common coarse salt, it should not be with iodine or fluorine. Both that, and another softens fish.
Fourth, if vinegar is used for pickling. We must remember that this is a quick method of salting, and in such a brine it is not recommended to keep the fish for a long time. If it lies, it will also be bad to clean. And in general, even in salt brine, herring is not recommended to be over-exposed.
Fifth, when you undertake to clean the fish, you must follow the sequence of actions. I have a video in the article about how to clean fish on fillets.
These factors can be the cause of difficulty in cleaning fish from bones.
Perhaps, of course, you know about all of them, then you need to look for other reasons. Write more is it always difficult to clean the fish, or only sometimes? What kind of salting do you usually use? Salt the fish with the head and entrails, or pre-clean?
If I have a clear picture, it will be easier for me to understand what the problem is.
Thanks again for the question. I am even most interested to deal with this! I am ready to make you also such an offer. You write me a recipe for salt, and I conduct an experiment, and salt as you do. And see what happens!
If I managed to answer you, then I am very glad! After all, if I share recipes, it turns out that I am responsible for them!
Many thanks for the comprehensive answer! All take note. Salt herring, which most likely has been frozen for a long time. And, possibly, was subjected to repeated defrosting. I love salting in the whole form. I do not soak in the water. Immersed in a brine cooled after boiling and consisting of a liter of water, a tablespoon of sugar, two tablespoons of salt, bay leaf, pea pepper. Leave for 4-5 hours at room temperature. Then in the refrigerator or balcony (in winter) for 48 hours. Herring is not always uniformly salted. The flesh often falls apart from defrosting. I tried to salt the slices in a similar brine. But we don't like the taste of such salting. So you have to buy ready-made salted herring. And I wanted my own salting. Very grateful for the answer!
sorry for the mistake in the letter: due to frequent defrosting (at the end of the 4th line from the bottom)
Vadim, salt you correctly! Therefore, I think it's really a fish affair. It only remains to «catch» a fresh fish in the store. As you see this, immediately «hooked» her. In stores with fish, we have «sadness — trouble.» Buy fresh tasty fish happens for happiness, and herring is no exception. For the time being, they will take her to us from distant seas, which only cannot happen to her. But you can still find. Therefore, we must look for a good store, where the main thing is not the profit of the seller, but the needs of buyers.
And I also want to tell you that you are a great fellow! Not everyone asks questions. And it's great when a person takes up something and brings it to perfection. And in this case, no questions in any way! Sorry for the liberty in expressing your opinion, because this is not the case!
Good day! Not long ago I caught a dozen of herrings myself, it so happened that I had to freeze them to transport them, and when she arrived home she began to defrost! I made a token which included 10 tbsp. l salt and 6 tbsp. l sugar! After defrosting the herring and when the fat has cooled, I poured it and put it in the refrigerator for 4 days in the fridge! After 4 days I took it out and saw that some of the fish had their belly open! Please tell me what you think, what is the reason?
Hello Pavel! I can not tell you exactly why some of the abdomen of the herring burst when salting. Maybe during transportation from the fishing place to the house, the abdomen was slightly damaged, maybe when the salting they were too tightly packed … the reasons may be different. The fish is a gentle creature, there are varieties with a large layer of subcutaneous fat, there are varieties with less fat, which means with thinner and delicate skin. That is, the quality of the caught herring itself can be different. Consequently, a certain quality of the finished product is obtained from the different quality of raw materials. I looked in the reference book on GOST — small breaks in the skin, tears in the abdomen without loss of viscera, all this is permissible for herring of the first grade. That is, even when salted industrially, this is permissible, and even stipulated in terms of preparation. So, I think that nothing terrible happened, so long as the herring was tasty and you liked to use it.
Hello! Of course thank you so much for the feedback! Do not you think that all the same, this exposure to sugar led to this? By the way, I completely agree with you about the GOST and the tender being, BUT, the problem I didn't have was not in an aesthetic way, because after you divide and clean you can't see it anyway, I just began to smoke after salting! And in smoked form, it really does not look very aesthetically pleasing!
In my opinion, sugar cannot influence this, since the proportion in your composition of preparing a brine, again, in my opinion, is quite permissible, and the sugar itself is not aggressive. But the fact that you copy already salted herring turned out to be interesting for me. I never cooked herring this way. If it's not difficult for you, please share your experience. I love new recipes for myself. I would like to try, especially since I have a smokehouse.
I salted herring with vinegar, according to my own recipe, but there are still a lot of options. Be sure to «master» your recipe. Thank!
Salted herring is very popular among our people. Therefore, there are so many recipes. So everyone can find a recipe to your taste!
Olyutorskaya in this strait already for 20 years does not enter. I am from Vladivostok.
Good day. Tell me, please, when salting in oil how much to take water ?? And skin fillet to shoot?
Tatiana, take about 650 ml of water. When you pour herring, there should be enough water to cover it completely. First, mix the salt and sugar in 650 ml, then if the brine is not enough, you can add a little directly to the jar. There is also little difference in whether you clean the herring or not. If you leave with the skin, then it will be salted for 3 days. If clean, the salting time will be two days. If you cut into pieces and peel, then you can also not wait for 3 days. Two days will be enough.
Margarita, hello again. And how long can you keep herring and can you freeze it? I immediately salted in 3 different brines (in brine with oil, with mustard and in vinegar). Let's see what happens. By the way, in the recipe with vinegar, the ingredients indicate oil, and the description does not say what to add
Tatiana, if you salt herring for the first time, then you did the right thing by salting it in several ways at once. You will have a good opportunity to compare recipes and determine which one will be more to the soul.
About your questions. In general, I am not a supporter of freezing salted herring. But I know that they do it. And the shelf life in such cases is quite large. If I'm not mistaken, it can be stored in this state for up to six months.
In terms of storage in the refrigerator, I can only say approximately. So without brine fish can be stored no more than 3 days, this is the deadline.
In brine, in a closed container, it can be stored for up to 3-4 weeks. But this period should be reduced if you salted herring and poured it with oil. Here we must be careful. I would not keep herring in oil for more than 5 days. Well, maybe it will be edible in a week. But I think no more.
Thanks for writing about the error. I will fix it.
Hello, thanks for the recipes. All made according to the recipe. Three days later I decided to try, but it was still too early. On the fifth day, just right.
Hello, Ildar! Please tell me what recipe you salted herring?
Margarita hello! Thanks for the recipes! I have two questions: is it possible to add freshly prepared brine if I took out the herring and the rest was not completely in the brine? And the second — you say that you can store in brine for up to 4 weeks, but it will not get too saline?
Hello Vera! I will try to answer your questions. Although I have never used such a method to add freshly prepared brine to the already prepared salted herring, but I think that this can be done. It is only necessary to close the container where the fish is located so that there is no air flow to it. In general, it is better not to salt a lot of herring at once. There are many ways to quickly salted it, so it is better to salt a little.
You can store salted herring in a closed container for up to 4 weeks. All this time it should be completely in brine. It will not get too salty, because during pickling it immediately takes the right amount of salt. There is even a way in which herring is salted, covering it with a thick layer of salt. And in this case, she also takes her as much as necessary.