Birthday salads: simple and tasty recipes for festive salads
Any table, whether festive or everyday, loves vegetables. Fried, steamed, fresh, cut and shredded, they decorate any dish. But, of course, they themselves can be a separate treat, especially for such a holiday as a birthday.
The main feature of any salad is that it also necessarily contains vegetables. And what you add to them — meat or cheese, fruit or greens, depends on imagination and, of course, the final recipe.
There are some recipes that have become so firmly established in our life that without them they no longer think of holidays. Judge for yourself: Olivier, with crab sticks, herring under a fur coat, vinaigrette, spring, summer — do they really need an introduction?
There are, of course, more complex options, for example, a garnet bracelet, a rainbow, a mushroom glade. But this, as they say, for more experienced chefs, and for those who have time.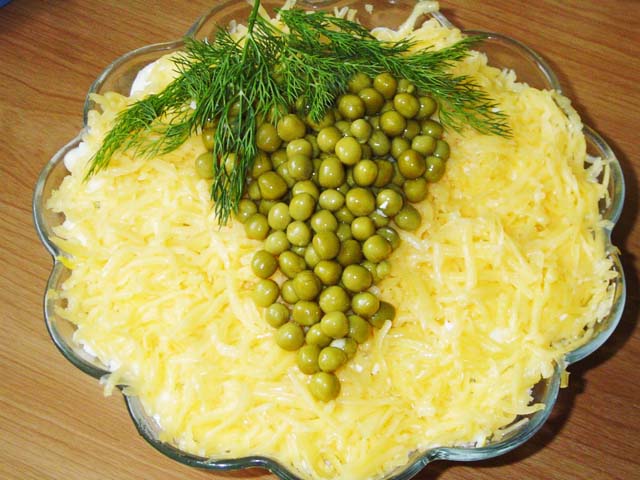 For those who value their time, and nevertheless love to treat their guests with various goodies, this article will help. I tried to gather here are not difficult to prepare, simple, but at the same time delicious options for cold snacks. And I hope that for everyone there is a recipe you like.
Chicken salad with pineapples — a very tasty and simple birthday recipe
I first tried this option with my aunt and just fell in love with him. When I asked for the recipe, I was extremely surprised by its simplicity. It is cooked very easily, but it turns out incredibly tasty, tender, juicy, leaving a savory sweetness in the mouth.
Currently, it can often be found on the festive tables of any level. However, the composition of the ingredients may be different everywhere, as well as the method of cutting.
But personally, I like it in exactly the way I tried it once.
Chicken fillet 2 pcs
Hard cheese 150 gr
Canned pineapples (fresh will not work) 1 bank
Eggs 5 pcs
Mayonnaise
1. Put a saucepan on the stove, pour water into it and send the chicken breast to boil. Optionally, you can add a little salt.
I usually add salt so that the meat is immediately tasty. And no other ingredients after this are salt.
2. After boiling, give the breast to cook for 15-20 minutes until fully cooked. Remove the meat from the pan and allow to cool completely. So it will be easier to subsequently disassemble the fibers.
3. Send the eggs to another pot, add water and put on the fire. It is necessary to cook them hard-boiled.
A little trick — so that the shell does not crack, you need to salt the water.
4. Chicken fillet break into fibers and crumble into long strips. In this recipe, it is better not to chop it into cubes, it will be more tasty crumbled meat.
5. Cut the cheese into thin straws about 3-4 cm long. Or you can use a special grater with a large nozzle.
Cheese can be taken absolutely any, but if you can buy solid varieties, it will be much tastier.
6. Eggs, pre-cooled, cut into sticks or grate on a coarse grater. Try also to give them the appearance of a long straw.
When everything is sliced ​​neatly and about the same size, the finished dish always looks much more impressive.
7. Pineapples are removed from the jar and put on a towel or napkin to stack extra juice. It should be cut into small, thin, short strips.
Here it is better, as they say, less is better than more. If the pieces remain large, the sweet taste of the fruit will kill the other ingredients, and we do not need that.
The salad is tasty when it is like a general ensemble — everything sounds in unison, and no one wants to stand out.
8. Mix all ingredients well in a deep bowl, add mayonnaise. If you have time to cook your homemade sauce, it will be just great!
As mentioned above, the content does not need salting. And mayonnaise and chicken have a sufficient degree of salinity.
9. You can serve it simply on a flat plate, garnished with grated cheese, egg, and pineapple slices on top.
Or put it tightly in the culinary ring of the desired size, or a small detachable form and cool in the refrigerator. Then remove the ring, decorate at its discretion, and such beauty will appear before us.
You can also make very small portions in a small culinary ring. The feed will also be very showy.
Nice and in the design, and in terms of taste the salad is ready. You can serve it to the table and eat with pleasure.
Caesar is, without any doubt, the king of all salads. It is served in restaurants and cafes, they are treated at public and family parties. And all because it is simple and at the same time refined. But it's not worth talking about taste!
But they prepare it, as a rule, in different ways. You can meet Caesar with different types of meat and cheese, with seafood, as well as with different composition. We offer you the most classic version today.
If you prepare it for your birthday, this option will be absolutely win-win. Checked more than once, and not only by me.
Eggs 3 pcs
Romain Salad
Cherry tomatoes 4 pcs
Parmesan cheese 100 gr
Anchovies 3 pieces
Garlic 2 cloves
Baton
Mustard
Lemon
Olive oil 1 \ 2 glasses
1. The first step is to prepare the key ingredient — sauce. To do this, separate the whites from the yolks. Squirrels are removed to the side, and the yolks are sent to a deep bowl.
2. To the yolks put a teaspoon of mustard and squeeze a little lemon juice. Mix thoroughly until smooth.
3. Continuing to interfere, pour in olive oil. Pour to the consistency you like. It should turn out like thick cream, and this can take about half a glass.
4. Grate 50 grams of cheese on the smallest grater and send it to the bowl with the sauce.
5. Peel and chop the garlic. Together with garlic, finely chopped and anchovies.
They are a very important part of the sauce, so it is advisable to find them. They are sold in supermarkets, in glass and tin jars.
All how to mix and push aside. Let it still insist!
6. For the preparation of crackers, cut white bread into cubes of 1.5-2 cm and send them to a dry hot frying pan. When a pink crust appears on the croutons, sprinkle them with olive oil. At the very end add a little grated cheese for flavor.
The cheese should also be rubbed with long, thin strips.
7. Chicken fillet cut across to get thin neat layers.
Pepper and salt to taste, on each side. You can sprinkle a little olive oil. And also thoroughly rub in the pulp all the seasonings.
8. Put the fillet on a hot frying pan and fry for 1.5-2 minutes on each side. If you have a grill pan, then prepare it for frying.
This will add extra sophistication to the finished dish.
9. Leaves of Romain wash and cut into large enough pieces. Someone thinks that the leaves must be torn with their hands. This is true if you prepare the dish in advance, and it will stand for some time. If the leaves are fresh, elastic, and the knife is sharp, then you can cut, nothing terrible will happen!
Putting the pieces in a deep bowl.
10. Cut the cherry tomatoes in two halves and pour into a bowl. You can also use larger fruits, but in this case they will have to be cut into a larger number of slices.
Send cooled crispy croutons there.
11. Pour all ingredients with sauce and mix very carefully.
12. Cut the chicken into large pieces, but do not put it in a bowl yet! It is still warm and from this our leaves of romen can lose elasticity.
Put all this colorful splendor on the dish. Fillet lay on top of everything when serving.
And do not forget to sprinkle the top with the remaining grated cheese. Perfect Caesar!
Simple layered salad «Festive» birthday
Easier really can not be. Despite the fact that it is a layered salad with unusual ingredients — it is cooked very quickly, but it turns out very gentle and festive.
For us, in our family, this is simply a duty option. It is not difficult to prepare it, but how effective is it!
Cheese (not hard) 300 gr
Orange sweet and sour 2 pcs
Onions 2 pcs
Eggs 4 pcs
Vinegar 1 tbsp
Mayonnaise 150g
Salt
1. Onion cut into thin half-rings and fold into a small cup. It will be preparing the longest, so with it we will begin.
Cover it with water so that it covers it completely. Add vinegar and lightly mix. Leave for 20-30 minutes. During this time, the onion will pickle and become soft, fragrant and not at all bitter.
2. Wash and peel oranges. White skin also needs to be removed, it is bitter and can interfere with taste perception. Divide the fruit into slices and, if possible, peel each of the film; without it, the finished dish is especially tender.
Cut them in small pieces.
3. Grate the cheese. In this version of cooking, you can use absolutely any of its varieties. I tried to use even fused, and it also turns out very tasty.
4. Send the eggs to the pan with water and cook until ready. Then put it under a stream of cold water, so that they cool down quickly and it was easier to clean them from the shell.
5. Peel and grate them. For small cubes, you can use an egg cutter.
6. While we were doing the ingredients, the onion was likely to have already been marinated. Try to taste it, and if it is pleasant to eat, then you need to drain the water and squeeze it a little.
If the taste turned out to be too sour, then onion half rings can be rinsed in cold boiled water and then pressed.
7. Take a detachable shape of the desired size and lay out the first layer of half grated cheese. Top with mayonnaise. If you make a homemade sauce in advance, it will be welcome.
8. Put the pressed onions on top of the mayonnaise, also half, and also grease with the sauce.
9. Put orange slices on this layer.
On top of them — grated eggs. Smear them again.
10. Layers need to be repeated until the ingredients run out. Top of the last layer can be decorated with greens, or any other ingredients, so. as your fantasy tells you.
Beautiful, tasty, rich salad is ready! Before serving, you can cool it in the refrigerator and only then release it from the detachable form.
If you do not have a detachable shape of the desired size, then you can lay out the layers without it just on a large flat dish. Such a design is also permissible, and in no way inferior to the one proposed.
Warm salad with instant champignons
This option is well suited for vegetarians, as meat products are replaced by mushrooms. They are also a satisfying and tasty product. And he will delight those who do not like dishes with mayonnaise.
This snack is best served warm, because cold mushrooms from the fridge will not be very knit with the other components. In principle, it is not necessary to warm it up. It is enough just to let her stand on the kitchen table for an hour, and she will already be in the right temperature condition.
However, this, of course, a matter of taste. Maybe you just like it in a cold state.
Pickled cucumbers 7 pcs
Champignons 900 gr
2-3 carrots
Green Peas 1 Bank
Sunflower oil
Salt
Pepper
1. Peel the mushrooms, cut off the upper skin from the cap and cut into plates. If necessary, clean the leg, just by scraping it with a knife.
Wash and, especially, soak champignons is not worth it, they quickly absorb moisture. And the finished dish may turn out to be too watery.
Cut the mushrooms into thin plates.
2. Pour the butter into the pan and warm it well. Put the mushrooms inside, add salt and pepper to taste and desire, and leave to fry, stirring occasionally.
For this stage, it will take about 15-20 minutes, the mushrooms should darken and be fully prepared.
3. At this time, you need to clean the carrots and grate it on a coarse grater. To make it more beautiful, you can use a grater for Korean carrots.
Prepare a deep bowl and place the grated vegetable into it.
4. Cucumbers cut into quarters of circles, that is, quite small. Keep this in mind if the fruits are especially large. Try not to use them with large seeds, the appearance of the finished dish with such can be lost.
Post cutting to carrots.
5. Open the green peas, drain and pour the contents into a bowl with the ingredients already sent there.
6. In the meantime, we must "reach" the mushrooms. Fried champignons are carefully laid out to the vegetables so that a lot of liquid does not get into the finished dish.
You can even pre-fold them in a colander.
7. Stir the finished dish carefully, trying not to mash the ingredients.
To eat with pleasure, immediately after cooking!
In this case, the finished product is simply laid out in a bowl, but you can lay it out on a flat dish and think over the appropriate decoration. It is enough to decorate with a pair of leaves of greenery, or a pair of whole pickled mushrooms. And the appetizing beautiful dish can be served on any holiday table.
Video on how to cook a light summer cabbage salad
This recipe is good for those who have a birthday in spring or summer. Especially love to cook it when it's hot outside. At such a time, of course, no one even wants to look at fatty mayonnaise dishes.
But the salad of fresh cabbage will be just right. And do not think that he is too boring to celebrate. If you fry meat in the oven and on the grill, then the best option and you can not think of.
I'm always to the kebab of meat, or chicken, I cut cucumbers, tomatoes and serve such cabbage. And it is always eaten without any residue.
By the time this is the fastest recipe that I only know. Therefore, the components can be crumbled in just 5 minutes. Take note of it. The finished dish, at least in the feast, even in the world serve — on the table it is definitely not stale!
Delicious vegetable salad — a recipe without mayonnaise for hot weather
If ready-made cold dishes with mayonnaise and sour cream are too high in calories for you, or you don't like meat, or just want something light and healthy, then this recipe is just what you need!
Especially understand the value of this dish on a hot summer day.
Bright, juicy, light and full of vitamins. You can cook it in minutes and enjoy it with pleasure and treat your family and guests.
White cabbage 300 gr
Onions 1 pc
Bulgarian pepper 1 pc
Orange bell pepper 1 pc
Yellow red pepper;
Fresh cucumbers 2 pcs
Fresh parsley
Fresh Dill
Not refined oil 45 ml
Lemon juice 25 ml
Sugar 1 tsp
Salt to taste
1. Wash cabbage and finely chop. Best suited young cabbage with thin crispy leaves. At the same time try to cut to the same size.
2. Peel the onions and cut them into thin half rings. The thinner you cut it, the less tangible it will be in the finished dish. It is important that bitterness does not interrupt us the rest of the taste.
3. Put the onion and cabbage in a bowl. Add salt and sugar and knead with hands, so that vegetables give out juice. Thus, onions become softer and lose bitterness, and cabbage, on the contrary, becomes juicier.
She gives off her own juice when pressed, and also exchanges it with onion.
4. To cut the bell peppers and remove the core. Cut them into thin half-rings. To make the appearance more advantageous, take the pepper in different colors.
5. Cut fresh cucumbers into medium sized straws. Before you start cutting, check if they have a hard peel. And if so, it is better to cut it.
6. Greens thoroughly washed and chopped. Today we use parsley and dill, but you can take basil, celery, and cilantro — someone who loves more and always adds to salads of such a plan.
7. Put all the vegetables in a large bowl and pour out the lemon juice with unrefined oil. It gives a unique aroma and specific flavor.
If you do not like this option, you can use an odorless oil.
8. Mix content well. It is advisable before serving to allow it to stand for 10 — 15 minutes, so that the salad is saturated with each other's juices and dressing.
You can decorate it with straws of sliced ​​pepper of different colors, as if weaving a multi-colored spiderweb.
This option is especially good in the summer, when all the vegetables are ripe and juicy. So it turns out especially tasty and saturated with vitamins.
Why new? Because this is exactly what you want before any holiday or reception of guests. In addition to beet sausage classics, I would like something else that will be remembered and will become a signature dish.
I offer you a very interesting version of the salad, with an unusual combination of flavors.
Canned squid 2 cans
Rice 100 gr
Canned corn 1 can
Peking cabbage 200 gr
Apple 1 large
Hard boiled eggs 2 pcs
Lemon juice 4 tbsp. spoons
Red onion 1 pc
2-3 canned cucumbers
Mayonnaise 300 gr
Salt and pepper to taste
Greenery
1. Boil rice until fully cooked. To do this, pour it into cold water, lightly salt it and cook for another 10 minutes after boiling.
Then rinse with cold water. In this case, rice is better to choose long grain, and steamed. It turns out more crumbly, and does not stick together during cooking.
2. Squids finely chopped, mince or grind in a blender. They should turn into crumbly, but not very fine stuffing.
For convenience and speed of cooking use canned squid. But if you have time, then you can boil and frozen.
3. Peking cabbage cut into small strips. Try to cut it into approximately equal pieces. Put the sliced ​​in a bowl, lightly salt and pepper.
4. Apple grate on a coarse grater. So that it does not darken, and also to give sour sprinkle it with lemon juice. By the way, it is also better to take an apple with a slight sourness.
It will not be superfluous in this combination of ingredients. Mix it with cabbage in a deep bowl.
5. Onions cut in half, then chop into small cubes. Put it in a separate dish and pour the remaining lemon juice. In this way we marinate it, and it will become pleasant, without bitterness at all.
Holding it in the juice for 10 — 15 minutes.
6. Cut cucumbers into thin straws and send to the already prepared onions.
7. Crumble the green onions in the same way as you usually do to make any other salad. Transfer for a time in a separate plate.
8. Grate eggs on a fine grater. Products are ready!
9. Take a flat plate to assemble all the prepared components. We will use a ring from the split baking dish, which is great for assembling layered salads.
10. Lay out half of the boiled rice with the first layer, smoothing it evenly, and smear it with a fine mesh of mayonnaise on top. Mayonnaise can be placed in a culinary bag, or simply cut off the tip from the plastic bag in which it is located.
11. The second layer will go half cabbage with an apple. Top again mesh sauce.
12. Next, you should lay out half the corn, from which you first drain all the liquid, and again put the mayonnaise on top.
13. The fourth layer is half crushed squid.
You can lightly salt and pepper them on top. But this is of course the desire. If you like slightly savory, sharp notes in dishes, then the pepper is just intended for this.
And with salt, be more careful, filling sauce has a sufficient amount of it.
14. Next comes a layer with onions and cucumbers, followed by squid again, which can be slightly salted and pepper again.
15. Then the layers are repeated — corn, cabbage with apples, rice, each layer at the same time to coat with a mesh of mayonnaise.
At the end of cooking, sprinkle the top layer with grated eggs and add a green color spectrum in the form of onions.
All layers need to be leveled and you can slightly flatten the blade. And this last layer is left lush and airy, it will be our decoration.
16. However, the top can be decorated as your soul desires. It can be both greens, and vegetables, and corn, and peas, generally all that will be relevant and available.
It remains only to remove the split form and you can bring our beauty to the table. If desired, it can be pre-cooled in the refrigerator.
Very hearty, interesting and juicy salad is ready, invite guests! They will certainly appreciate your efforts!
Video on how to make a simple and delicious tuna salad
And if we continue the theme of cold appetizers with seafood, then turn your attention to this simple recipe. On the table of any level, it looks very impressive. I cook it in small portions, for each guest separately.
And never even a salad leaf was left on the plate. It is eaten whole without residue.
It consists of tuna and avocado. Because of this, it turns out to be refined, delicate, and at the same time light and nutritious. How is this possible, you ask? I advise you to cook and you will understand everything yourself.
By the way, all today's videos were made specifically for the blog «Secrets of Economics». And I think you will appreciate them.
And also, taking this opportunity, I invite those who are not yet dreaming to subscribe to the channel.
In today's compilation, I tried to collect various recipes from a variety of products so that when choosing an option, you do not have questions with what to cook. And I hope you like them.
Also today, we raised the question that all the options were also not difficult to prepare. And I think that this problem was also solved.
Therefore, friends, cook, treat guests and eat with pleasure.