Classic Beetroot — 8 recipes for cold and hot soup
Beetroot soup is another cold summer soup, in addition to okroshka, which saves us from the summer heat. Although they prepare it not only in summer, but also in winter. And of course, the winter soup turns out rich and very appetizing, and is served hot.
The options and ways of cooking this dish are probably as many as the housewives who cook it. But you can still highlight the basic rules by which it is prepared.
The basis of the soup is beets, and depending on the recipe, other components are also included, most often it is cucumber, potatoes, greens, less often radishes. In hot versions, it is also onions with carrots, which are pre-pasted.
Often the decoction is filled with vinegar, or lemon juice, and there are options for cold cooking, where kefir is used as the liquid base.
This is basically a lean soup, although there are recipes where meat, poultry and sausages are used in both hot and cold.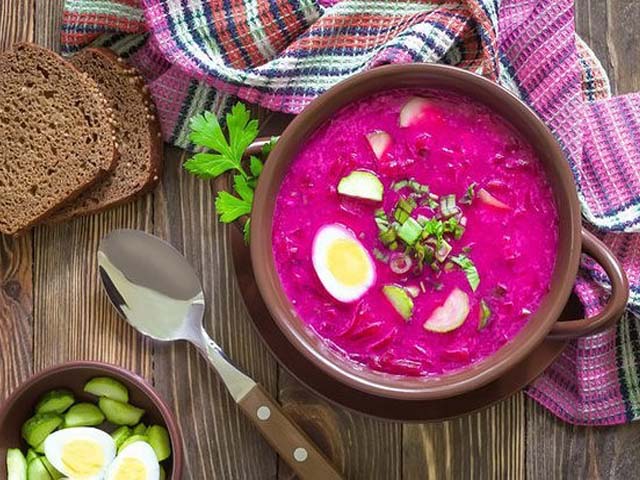 Today I tried to collect in one article different ways of cooking my favorite soup. Having become acquainted with them, and having understood the basis, you can easily cook not only any of them, but also make your own recipe.
This recipe provides for the use of acidified beet broth as a liquid base. So they prepared this cold soup in the old days, they cook it now.
The peculiarity is that we will not mix all the components in one mixture. And we will form the dish directly when serving.
The calculation of the products is given for two liters of water.
beet — 3 pcs (medium size)
cucumber — 4 pcs
boiled potatoes — 4 — 5 pcs
boiled soft-boiled egg — 4 pcs
Green onion — 70 gr
radish — 60 gr
dill — 40 gr
sugar — 0.5 tbsp. spoons
salt — 0.5 tablespoons or to taste
vinegar 9% — 2 — 3 tbsp. spoons (or to taste)
sour cream for serving
boiled egg for serving
If you like spicy dishes, then cook 2 — 3 cloves of garlic and a little mustard.
To begin with, we will make a decoction in which we slightly marinate the beets. It will also serve as the basis for a cold soup.
1. Pour 2 liters of water into a saucepan and bring it to a boil. Pour salt and sugar. When remove from heat, pour in vinegar. All these ingredients should be added to taste. I wrote how much I add on the basis of a given amount of water, but everyone has different tastes, so follow them more.
After you mix, try, and if something in your opinion is not enough, you can add. The taste of water should be moderately sour, salty and sweet at the same time. Almost the same taste will get and the finished dish.
2. While the water is boiling, peel and cut into small cubes all beets.
When the water was removed from the heat and vinegar was poured, it's time to put it in a saucepan.
3. Again put the pan with the contents on the fire and bring the water to a boil. Cook on low heat for one or two minutes, no more.
4. Drain a portion of the hot broth into a separate bowl, but do not pour it out; we will still need it. Vegetable cubes should remain covered with water for about 1 cm.
Put the pan with the contents back on the fire and simmer until cooked. Choose this state yourself, someone loves soft vegetables in the dish, someone on the contrary loves them a bit crunchy.
5. After the vegetable is ready, remove the pan from the heat and add the liquid that we have drained. Allow the mixture to cool, then refrigerate. The base should be cold.
6. While the base is being cooled, chop cucumbers, eggs and potatoes, chop green onions and dill. If instead of dill you want to use other herbs, it will also be appropriate. Also suitable parsley, basil and even cilantro (who does not mind its smell).
If you want, you can add a little chopped garlic. I add 2 cloves, but it will be almost imperceptible, will give only a slight smell. Therefore, in this question, decide for yourself whether to add it or not.
The mixture is also put in the fridge.
7. When the broth and the mixture is cooled, you can form a dish. Pour a cold base into a plate, then put the sliced ​​mixture of vegetables, herbs and eggs. Add a half of the boiled egg and thoroughly flavor with sour cream.
If desired, you can also add a little mustard to each bowl. Try it, many people like it!
Serve at the table and eat with pleasure.
Store all the components can be in the refrigerator, as needed, they can be combined in the right proportions. Very comfortably!
At the same time, neither potatoes, nor eggs, nor cucumbers are painted red, and the dish looks on the second day as well as on the first. In addition, all the components here do not exchange tastes in advance, and each of them plays a role in the overall ensemble. All of them can be felt.
And the appearance is captivating, everything is fresh and neat.
I love to add radish to okroshka. She gives her an easy pleasant bitterness. We will also cook the proposed recipe from the fridge with it.
This recipe, although not significantly, is still different from the first. And the taste of the finished dish turns out quite different.
boiled beets — 150 gr
cucumbers — 150 gr
radish — 100 gr
boiled potatoes — 150 gr
boiled egg — 3 pcs
spring onions — 3 feathers
dill, parsley — 3 branches each
lemon juice — 1.5 tbsp. spoons
salt — 0.5 — 1 tsp
sugar — 0.5 tsp
boiled water — 500 ml
1. Pour water into a suitable bowl. It should be boiled and cooled at room temperature. Pour salt, sugar and lemon juice into it. Stir all ingredients until they dissolve and be sure to try.
The water should be slightly sour, moderately salty and quite a bit sweet. In any case, you should like the taste.
If you want to add something, what is missing on you, you can do it.
2. Pre-boiled, cooled and peeled beets rubbed on a medium grater. Put it in prepared water. As long as we cut all the other ingredients, it will lightly marten.
3. Dice the potatoes, then the cucumber. In a cucumber try the skin, if it is thick and rough, then it is better to clean it before cutting.
It is better to take potatoes young, it gives special delicate taste to a ready dish.
4. Cut the same radish and eggs into cubes. If there is an egg cutter, then you can grind the last ones in it — it will turn out more accurately.
In general, try to make the whole cut even, identical pieces. The finished dish will look more dignified. As a method of grinding, you can choose and cutting straw.
5. Greens also cut is not very large.
6. Then mix all the ingredients into one common mixture.
7. Put the liquid «ruby» base and vegetable mixture in the refrigerator until they are completely cooled. When serving, put in the plate the right amount of one and pour the liquid component.
Serve with sour cream. And now the supply of such a dish with yogurt has become popular, it is less high in calories than fat sour cream. And by the way, the fridge is no less tasty.
And my husband likes to eat such a dish with the addition of boiled meat or sausage. So if there is a desire, then meat components can also be entered in this case.
Incredibly fresh and tasty is such a summer soup, prepared using kefir. When it is hot outside, such a dish will be a real salvation.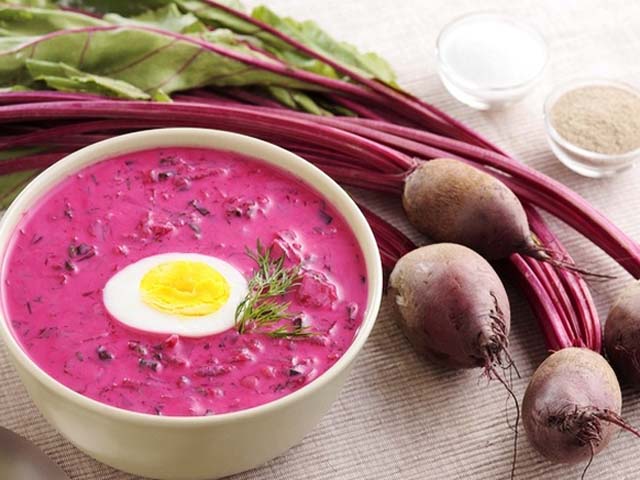 And you can cook it, both in advance and in haste. In the second case, it is only necessary to have the main component already boiled and boiled, chilled water in the refrigerator.
beets — 2 pieces (350 gr)
cucumbers — 3 pieces (350 gr)
Green onions — 40 — 50 gr
dill, parsley — 30 — 40 gr
garlic — 2 cloves
kefir — 1 liter
boiled water — 250 ml
salt, black pepper, ground to taste
boiled egg for serving (half per serving)
sour cream for serving
1. Boil the beets until cooked. In order not to cook it too long, you can use this method. Boil for 35 — 40 minutes, then drain the hot water and fill with cold water. Leave for a short time, then drain again and peel the vegetables.
So you can cook medium-sized specimens, I think that weighing about 150 grams.
You can also bake vegetables in the oven or microwave. If at the same time to wrap them in foil, they will not lose juice. By the time the process of roasting may take about 50 — 60 minutes.
2. Grate vegetables on a medium or fine grater, or you can cut them into small cubes. The method of grinding does not play a special role and does not affect the taste.
3. Put all that prepared in the pan, where we will "collect" our soup. Pour a glass of cold water into it until it is enough. And also pour in all kefir.
Its fatness can be what you want. It is clear that the fatter it is, the calorie it turns out the finished dish. I love it fatter, and therefore I will fill it with sour cream.
But you can take and very low-fat dairy product. This is especially useful for those who are on a diet.
4. Add salt and pepper to taste. First, pour in a little, and at the end of cooking, having tasted the finished dish, you can always add these ingredients.
And also enter crushed garlic through a press. It can be finely chopped.
5. Take a little different greens and chop it smaller. Pour into the pan for the rest of the products.
6. Cut the cucumber into cubes or small straws and send to the same. Now it remains only to mix the mass and try whether they put enough salt and pepper.
If all is well, then send the pan to the fridge for cooling. After 3 hours, the soup will cool and become incredibly tasty. You can serve it just like that, or boil the eggs in advance, cut them into two halves and put them in a plate.
I love to add a little sour cream to all this splendor. Well, it does not matter that there is kefir …, sour cream, even for okroshka on kefir, even though for our soup today there is nothing superfluous.
And if you noticed in this recipe, we did not add vinegar or lemon juice. Therefore, you can simply cut the lemon slices, or halves, and put them when serving or on a saucer, or directly into a bowl of cold soup.
In this case, the egg can not add. The soup is already beautiful and looks 100%.
Summer chilled soup with beets and boiled veal
This recipe I want to offer you for one serving. And the composition of the ingredients will be given also for this amount. This is done for convenience.
You can calculate how many servings you will need and proportionally increase the number of products.
A feature of this method of preparation is that we will not mix anything. All components are laid out separately and a decoction, they are poured directly when serving.
boiled beets — 40 gr
beet broth — 1 cup
boiled veal — 30 gr
fresh cucumber — 30 gr
radish — 20 gr
boiled egg — 1 pc
dill — 1 sprig
green onions — 1 feather
salt, pepper to taste
sour cream — 1 tsp
mustard — 0.5 tsp
1. First, we need to boil a red vegetable until it is ready and cook a decoction from it. To do this, you need to clean the fresh product, cut it into cubes, or thin straws and boil with the addition of salt and herbs until tender. And also add salt, sugar and vinegar to taste.
Strain the broth through cheesecloth, and let cool, first at room temperature, then in the fridge.
The beets themselves also cool in the refrigerator.
2. We also need to pre-boil any meat. In finished form, it should be soft enough, so that the fibers are easily separated from each other. It is desirable that the meat was like a stew.
To keep it dry, let it soak in the finished broth and cool completely. And even better if it lies there all night.
Meat cut into thin strips.
3. Also chop the cucumber and radish in very fine straws. An alternative to the latter can be daikon. Each ingredient is laid out in a plate in which we will serve the soup separately, without stirring anything.
4. Prepare a dressing for the soup. To do this, crush boiled yolk in a bowl, add sour cream and mustard to it and grind everything until homogeneous.
Put the dressing in the center of the plate, in the middle between all the other ingredients.
Protein cut into thin strips and put in a plate to the other components.
And add a little chopped beetroot straw.
5. And of course we still have greens. Finely chop the onions and dill and add them to the dish.
6. Just before serving, pour all the ingredients with a prepared raspberry-colored decoction and sprinkle with spices. You can use a pinch of paprika for this.
On a hot summer day, this dish can be supplemented with ice cubes. It will be not only tasty, but also spectacular.
Hot classic beetroot as in kindergarten
The recipe for this recipe is quite simple. This way they cook this delicious soup in kindergarten.
broth meat, or vegetable — 1.5 — 2 liters
beets — 150 gr (1 pc)
onion — 1 pc
carrots — 100 gr (1 pc)
potatoes — 2 — 3 pcs
salt, sugar to taste
vegetable oil — 3 tbsp. spoons
fresh greens — 40 gr
sour cream — 3 tbsp. spoons (optional)
1. Wash the beets and boil in a place with a skin in a sufficiently large amount of water. Boil should be about one hour. The vegetable will be ready by this time and when piercing it with a knife, it should be quite soft.
2. Put it out of the water and let it cool completely, then cut it into small-sized strips.
3. Peel the onion and cut into small cubes. Peel the carrots and cut into small strips, or you can grate them on a coarse grater.
4. Heat the oil in a frying pan and sauté the onion until transparent. Add carrots, and with it pour in a little broth, simmer on a low heat until the carrots limp. Add half a teaspoon of sugar.
5. While vegetables are stewing, peel and chop the potatoes into small pieces.
6. In the remaining broth, shift the stewed vegetables and potatoes, cook everything over low heat until the potatoes are ready. It will take about 10 — 15 minutes of time.
As indicated in the recipe, you can cook in vegetable or meat broth. But sometimes this dish is prepared and just on the water.
7. Put the chopped beets and chopped greens into the broth. And also, if you decide to add sour cream, then her. For children's institutions, it is desirable that all ingredients undergo heat treatment.
Then salt the broth to taste. Boil after this at low boil for 5 minutes. Then turn off the heat, cover the pan with a lid and let it brew for another 10 minutes.
Then you can pour the hot soup in plates and serve.
Here is such a simple way to cook a delicious soup as it is prepared in the easiest way in kindergartens.
In a similar recipe, hot classic beetroot soup is cooked with meat. However, the composition of the ingredients here will be somewhat different, in general, as the process itself.
Hot soup turns out delicious. Having prepared it at least once, you will certainly soon want to repeat your favorite result.
The process is not fast, I will tell you right away. But he is worth it.
turkey meat, or any other — 500 gr
beets — 500 gr
potatoes — 350 gr
carrot — 250 gr
onions — 2 pcs
tomato paste — 2 tbsp. spoons
celery root — 25 gr
parsley root — 0.5 pieces (can be parsnip root)
boiled eggs — 2 pieces
sugar — 1 tsp
salt — 0.5 tbsp. spoons
vegetable oil — 2 — 3 tbsp. spoons
fresh greens — 40 gr
bay leaf — 2 — 3 pieces
Peas — 7 pcs
allspice — 3 — 4 peas
Roots give any soup an amazing taste. If they are in your kitchen, then cook with them, if not, you can exclude them from the recipe.
1. Immediately should be cooked meat. This is the longest process, which is why it occupies the first position among us. We will use turkey meat, but in principle, it can be used absolutely any. It is desirable that it was with a bone for Navara.
Wash the meat, pour it with cold water and bring to a boil. Remove the foam until it forms.
2. Add to the broth two peeled whole bulbs, whole celery root, without slicing, and parsley or parsnip root. And you can gradually a little of both.
Pour the peppercorns and leave to cook until ready. The turkey will cook about 1.5 hours, and the other meat, depending on its variety. We need it to be cooked to the state where the pulp will move away from the bone.
3. In parallel with this, boil eggs. They will need a soft bob.
4. Meanwhile, also chop small onion cubes. Carrots and three beets grated.
5. Heat the pan thoroughly and pour oil into it. Pour onions, sauté until transparent on medium heat.
Then add the beets and then 10 to 12 minutes.
Add carrots and stew all together for another 10 — 12 minutes.
6. Then add sugar and tomato paste. It, by the way, can be replaced with fresh tomatoes, mashed through a sieve, or homemade tomato puree. Tomatoes can take 3 — 4 pieces, depending on their size, and mashed potatoes — 6 spoons.
7. Pour a glass of broth, the meat by this time we should already be ready. Stir, cover the pan with a lid and then all together 5 — 7 minutes.
8. Remove meat from broth. Also remove the onions and roots, and strain the broth through cheesecloth. Then send it back to the pot. Send the boneless and sliced ​​meat there.
Root vegetables cut into thin strips and put back into the pan.
There also put the potatoes, cut into medium-sized sticks. Now we do not close the lid of the pot, we cook in the open state.
9. After the potatoes have cooked for 10 to 15 minutes, put the frying in the pan.
Let boil and boil for 3 minutes, then add the eggs, crushed into cubes.
10. Cut the greens and after boiling the eggs for 2 — 3 minutes, lay it out and bay leaf. Boil all together for 5 minutes, then pull out all the leaves. Turn off the fire and cover the pan with a lid.
Give the soup to infuse and rest for 10 minutes, then pour into plates and eat with pleasure.
You can serve hot soup with black bread, with fresh green onions and garlic. And also put mustard on the table, with beetroot soup it is very good.
Diet Pierre Ducane — one of the most popular lately. It differs from others in that it limits the consumption of fats and carbohydrates, and proteins are calculated in strict accordance with the weight of the one who adheres to the diet.
In addition to the most developed methods of diet, he also published several books with recipes for various dishes. I did not see these books myself, but there are a lot of them on the Internet and in various women's magazines. And there is also a recipe for our current topic. I suggest to cook a summer cold dish on it.
chicken fillet — 1 pc
beets — 1 pc
cucumber — 1 pc
egg — 3 pieces
garlic — 1 clove
dill — 20 gr
kefir — 500 ml
lemon juice — 1 tsp
salt, black pepper to taste
1. For this recipe, we will bake the main red vegetable. And to keep all the juice inside, we will do it in foil in the oven. The temperature for baking we need 200 degrees, and the time required for this will be 30 — 40 minutes.
2. Pour the chicken fillet with cold water, bring to a boil and cook until ready, removing the foam.
3. Cook hard boiled eggs, cook them 8 minutes.
3. Grate the ready beets. Eggs and cucumber also grate, or you can crumble them with very small straws.
4. Cut the fillets into small cubes, or disassemble them into fibers. Garlic skip through a press, and chop the dill.
5. Properly prepared ingredients shift into one pan, pour them with kefir, add salt and pepper to taste, as well as lemon juice. To mix everything. Sprinkle with chopped dill.
Now you need to infuse the soup and cool. It will take hours 2 — 3, no less. Put it in the fridge for this. Soup infusion, cucumbers are fed with a light «sour» from lemon juice and yogurt, all the ingredients will become, as a whole.
Eating such cold diet soup is a pleasure. It is both light and very tasty. Perfect for a hot summer day.
Video on how to cook Lithuanian cold borscht on kefir
In this recipe, despite its similarity of preparation with other options today, there is one sharp difference, which in fact is its business card.
And this is such a feature — the borscht itself must be cooled in the refrigerator, but the potatoes must be served hot. And when you eat one mixing with another, then you get untold pleasure.
It is in this form, and in this combination, you can eat this tasty dish in any cafe and restaurant in Lithuania, and this is how local mistresses prepare it. Well, having learned from them, we are happy to cook as well.
Dear friends, we have such a wonderful selection today. I admit honestly, if I had to choose what to cook from them today, I would be confused. Painfully they are all good. And although all soups differ in taste, one thing unites them — everyone is so tasty that it's impossible to eat them, they don't get bored and are always desired.
So feel free to choose any recipe. They are good both for hot and for cold weather. Therefore, without a favorite dish will not stay.
Cook and eat on health! And enjoy your meal!