Stuffed tomatoes — recipes for the festive table
Stuffed tomatoes are very tasty and popular snack for any holiday. It meets all the parameters of the festive table — it is bright and colorful, it is easy and simple to prepare, and of course it is delicious! In addition, they can be stuffed in the most numerous ways. It is difficult to find a product with which this vegetable would not be combined.
Therefore, the options for such a snack, there is simply a huge amount! And on the New Year's table is one of the most sought after. It is prepared both in cold and hot. You can also cook lightly salted pickled stuffed tomatoes, which fly at any holiday table, like hot cakes.
So let's consider the most popular recipes, as well as consider those recipes that are less popular, but no less tasty!
I offer today only six basic recipes. But I want to offer a lot of options for various fillings and decoration of dishes. And knowing all this, you can cook not 6 dishes, but much more! 16, 26, 36 … Yes, how much you want! But every New Year and every holiday is a new version of stuffed tomatoes!
At first, these will be recipes, where we will bake tomatoes in the oven, then where we will not bake them, and at the very end we will prepare lightly salted stuffed tomatoes.
Tomatoes stuffed with minced meat and mushrooms, baked in the oven
tomatoes — 11-12 pieces (medium)
minced meat — 200 gr
mushrooms — 250 gr
onion — 1 pc
cheese — 100 gr
sour cream -4 tbsp. spoons
spice
salt, pepper — to taste
vegetable oil — 3-4 tbsp. spoons
water — 0.5 cups
Take as many pieces as you want portions. For snacks, it is better to take not very large fruits, since there are always many different snacks and salads on the holiday table, and I want to try them all. And if you take large specimens, then eating only one such, you can already not try anything else.
Therefore, it is better to take the average vegetables according to the number of guests and reserve a few more. So, I have 8 guests expected, I make 11 pieces. Excess cooking for those who want to supplement.
1. Cook the minced meat. If you have it frozen, do not forget to get it in advance.
Stuffing can be used any, and beef, and mixed pork + beef, and chicken.
2. Cut mushrooms into large pieces and boil for 15-20 minutes. Then throw it in a colander, let them cool. You can use any mushrooms — now I use fresh forest mushrooms, but for the New Year's table I will use frozen ones. Fresh champignons and oyster mushrooms are also suitable. And you can even use pickled mushrooms — the recipe of cooking which I recently shared with you.
3. Cut the onion into small cubes and fry it in butter until golden brown.
4. Add the minced meat and fry for 10 minutes, stirring constantly. Add salt and pepper to taste. Add a pinch of any spices to the meat.
5. Boiled mushrooms cut into small cubes and add to the stuffing. Fry for 10 minutes. You can also add cut middle of tomatoes.
6. While the filling is being prepared, let's do some tomatoes. We wash them beforehand and let them drain. Cut off the «lid» from the side of the stem, and remove with a teaspoon all the seeds and partitions.
7. Fill them with meat, onion and mushrooms stuffing. Put them in a greased form. Pour half a glass of water and ship to the oven preheated to 180 degrees.
8. We bake 15 minutes. During this time, rubbed grated cheese.
9. We get them, spread on a teaspoon of sour cream or mayonnaise on each of them. And sprinkle cheese on top. You can sour cream and mayonnaise and not put, and sprinkle with cheese.
10. Bake another 15 minutes.
11. Ready-made tomatoes reach and serve hot.
They can be served not only as a hot snack, but also as an independent dish. And you can cook it not only for a holiday, but also on weekdays.
In this recipe, mushrooms are used, but if you want, mushrooms can also be eliminated.
You can cook them the way we cook stuffed peppers in the oven. That is, add the minced boiled until half cooked rice.
And you can, instead of cheese, 15 minutes before being ready to drive a raw egg.
As you can see, it turns out very spectacular dish!
This recipe is not as popular as the first, but no less tasty. Having prepared stuffed tomatoes according to this recipe, you will surprise all the guests, and they will try for a long time to guess what is in the stuffing.
I give the layout of products for 8 servings, although I cooked this dish as the main one and took some more products.
We will need (for 8 servings):
tomatoes — 8 pcs (medium)
rice — 70 gr
bread crumbs — 2 tablespoons
white cheese — 70 gr
eggs — 2 pieces (optional)
walnuts — 50 gr
parsley and basil
pepper — to taste
vegetable oil — to lubricate the form
water — 0.5 cups
1. Boil rice 10 minutes until half cooked, lightly salted. Then drain it in a colander to glass the water.
2. Crumble the cheese with a fork.
3. Chop greens. Do not take a lot of greenery, enough 1-2 small sprigs of basil and 4-5 sprigs of parsley.
4. Grind the nuts with a rolling pin, but make sure that there are still quite tangible pieces.
5. Prepare the filling, mixing for this all the ingredients. Pepper. Salt is not necessary, since we have already salted rice, and salty cheese itself.
6. Rinse the tomatoes. I use yellow varieties today. I grew them in abundance in the garden, and for a change I decided to cook them.
7. Cut the «lid» from the side of the stem from the tomatoes and clean the inside of the seeds and partitions. It is easy enough to do this using a teaspoon.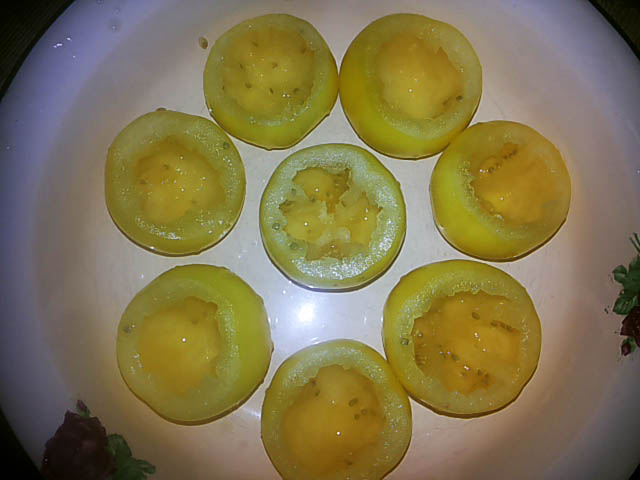 8. Prepare a baking dish with high sides and oil it.
9. Fill vegetables with stuffing, put them in shape. At the bottom pour half a glass of water.
10. Bake for 20 minutes in a preheated 180 degree oven. Serve hot.
If you want the upper part not to be fried, then cover the shape with a piece of foil.
According to this recipe, you can prepare the filling without the use of nuts. But you can enter the egg, either raw or boiled. Rice with egg has always been considered a good and satisfying filling.
If rice is cooked until cooked, and minced to make the same ingredients, then you can not bake them in the oven. In this case, they can be served as a cold snack.
This is a cold snack option. And perhaps the most beloved and popular among the people.
tomatoes — 8 pieces
hard cheese — 200 gr
garlic — 2 cloves
dill — 2-3 sprigs
sour cream or mayonnaise — 4-5 spoons
1. Grate the cheese on a medium grater.
2. Chop the garlic through a press. Dill finely chopped.
3. From the fruits, cut off the "cover" on the side of the stem, or make curved cuts in the form of teeth.
4. Choose from them seeds and partitions.
5. Mix the cheese, garlic, mayonnaise or sour cream. Who loves what. You can add one and the other 50% to 50%.
6. Stuff the tomatoes with the mixture. Put on a flat plate covered with sheets of lettuce.
7. If desired, sprinkle with chopped dill.
Everything is not easy, but very simple! And how delicious! It is because of such simplicity and excellent taste and love to serve such a snack on a festive table.
And sometimes they even go in a simpler way. Just cut a large fruit into circles, and spread the stuffing on top. Time to prepare such a snack takes a minimum. And who prepares it, then she knows that she never stays on the table and always fly away in the first place!
As mentioned above, this is a cold snack option. But you can cook it hot. To do this, fill the tomatoes with filling and place in the oven for 15-20 minutes. But I will say that I do not bake them in this version, they are good without it.
By the way, cheese can be easily replaced with cottage cheese! It will need 200-250 grams, depending on the size of the tomatoes. Everything is cooked in the same way, but instead of cheese we add cottage cheese.
Similarly, hard cheese can be replaced by cottage cheese, such as Philadelphia or Almette. And this option is also very good!
For different holidays you can cook different fillings, and cut tomatoes in different ways. And each time we will get a new tasty snack.
From this combination of products it turns out just the most delicious snack. Do it not so often, but in vain. She fully deserves our attention! Fish can be used any, as an example today I use tuna.
tomatoes — 8 pieces (medium)
tuna — can
egg — 2 pieces
parsley and dill — a small bunch
spring onions — a small bunch
mayonnaise or sour cream — to taste and desire
salt, ground black pepper — to taste
1. Wash and dry the tomatoes. Cut off the «cover» on the side of the stem and, using a teaspoon, carefully remove the seeds and internal partitions. Try to keep them no juice.
2. Boil eggs hard-boiled, cool with cold water and clean. Then cut them into small cubes. Or you can use an egg cutter for this.
3. Grind greens, try to cut it into smaller ones.
4. Open a can of tuna and mash it with a fork. If you add sour cream or mayonnaise to the filling, then drain some of the fish juice. Usually tuna is cooked in its own juice, and you can use only fish and juice for the filling. In this case, neither sour cream nor mayonnaise can be added to the filling at all.
5. Mix tuna, greens, onions and eggs. Pepper and lightly salt, but with caution. It is possible and not to salt at all. Optionally add or not to add sour cream or mayonnaise. Leave some green for decoration.
6. Fill the prepared tomatoes with the mixture. Top decorate with remaining greens. Serve and eat with pleasure.
In fact, if you just prepare one stuffing here, it will already be tasty. Therefore, adding it to the tomatoes will be doubly delicious.
Instead of eggs, you can use hard cheese. In this case, add it in the amount of 150 grams. And in fact, and in another embodiment, in the recipe, you can enter fresh or pickled cucumber.
The principle of stuffed dishes is always the only one. If the filling is tasty, then the snack will also be tasty!
By the way, this snack option can also be served by putting stuffing on sliced ​​tomatoes.
I cut into circles not very large yellow fruit. Laid out the stuffing on them, decorated with half an olive. She put everything on a large dish, pre-lined with lettuce. And on top sprinkled with paprika powder. The dish turned out gorgeous. And the stuffed tomatoes are very tasty!
This option of cold snacks is appreciated mainly because of the beautiful feed. When you put "tulips" on the table, the hand involuntarily reaches for a beautiful fragrant "flower".
Stuffing «tulips» can be all the above fillings, but in order not to repeat, I want to offer another option. In this recipe, we will use cheese as the main ingredient.
tomatoes — 7 pieces
white cheese — 300 gr
greens (parsley, dill) — a small bunch
green onions — bunch
1. For the preparation of «tulips» need to prepare solid elongated tomatoes are not very large. The number of «flowers» should be odd. Still, we will cook a bouquet!
2. Mash cheese with a fork.
3. Chop parsley and dill as small as possible.
4. Mix cheese with greens. If desired, add 1-2 cloves of minced garlic to the mixture.
5. To cut tomatoes from the top crosswise, making rather deep cuts, but not hard, so that the "petals" do not break. It will be enough to cut to such a condition that they fit a teaspoon.
She will need to remove the seeds and partitions from the fruit. This should be done carefully. Then the fruit must be dried, especially inside. If juice remains in them, then the filling can "float".
6. Fill the interior with the mixture. She should not climb out. «Petals» lightly press.
7. Put the "buds" on a flat dish, dock the stem with each of them from green onions. It should make a bouquet.
8. Decorate the free space with cucumber slices, canned corn or peas. Or as prompted by fantasy.
Sometimes on the holiday table you can see a bouquet of «tulips» standing in a vase. Make this can also be very simple. For the bouquet necessarily need small tomatoes, not the "head of the flower" outweighs the weight and it will break.
Insert the skewers into the stalk of green onions, and we put on the «tulip head» on top. We put in a vase. We inform guests to eat carefully and remove the skewer.
As a filling for this snack, ordinary cheese, melted cheese, and curd cheese can be used. If desired, boiled egg, nuts, garlic can be added! Here you can give free rein to the imagination and create your culinary masterpiece, as you like!
Prepare in such a way a beautiful snack, and you will surprise all those present at your table!
The variety of toppings that I suggested to you above will help you prepare a dish that has been well known to everyone, giving it a new form and content. So do not be afraid to dream and you will succeed.
And finally, the promised recipe of pickled tomatoes, which are an excellent and desirable snack on any holiday table.
Daily fresh-salted tomatoes
tomatoes — 1 kg
parsley, dill, basil, celery — 150 gr
garlic — 5 cloves
bay leaf — 2 pieces
Carnation — 3 pieces
red pepper — to taste
Sweet peppers — 6-7 pieces
10-12 black pepper peas
coriander seeds — 1 tsp
dill seeds — 1 tsp
salt — 2.5 tbsp. spoons
sugar — 2.5 tbsp. spoons (or honey — 2.5 tbsp. spoons)
vinegar 9% — 4 tbsp. spoons
water — 1 liter
1. Wash and chop greens. Try to grind it as small as possible.
2. Peel and finely chop the garlic.
3. Mix the herbs with garlic.
4. Wash the tomatoes, drain the water and cut them lengthwise, without cutting to the end to 1.5 cm. You can also cut them crosswise.
5. Carefully, in order not to break the fruits into two parts, lay the filling inside. As much as it goes.
6. Put them in a small pot or jar.
7. Boil water in a saucepan. When it boils, add all ingredients except vinegar. If we use honey instead of sugar, we don't add it either.
8. Give the boil 5 minutes. Hot marinade pour the prepared billet.
If you use honey, then give the marinade a little stand and cool for about 15-20 minutes. Then add honey. If you use sugar, then you do not have to wait.
9. In order to evenly distribute boiling water over all fruits and not to burn them from above, you can put a saucer on them and pour marinade on it.
The same saucer is left as a press so that they do not float.
10. Allow to cool. Then put the pan in the fridge for 24 hours.
Such marinated stuffed tomatoes are called "daily". They called them that way because after 24 hours they can be eaten.
And take my word for it; it will be harder to find a tasty snack. Men just love these tomatoes! Yes, by the way, and women never refuse from such.
Well, now let's summarize our today's review. As mentioned in the article above, stuffed tomatoes are divided into those that can be baked in the oven, those that can be eaten without heat treatment, and those that are cooked in a marinade.
It is clear that heat treatment is required when you cook the stuffing from meat or chicken minced meat, fresh mushrooms and rice.
Cooked so they can be served as a hot snack, but you can as an independent main dish — meat or vegetarian.
For filling cold snacks, absolutely all cheeses can be used — both hard, curd and melted. Very tasty they are obtained using Adygei cheese. This also includes cheese and cottage cheese.
From cheese in the filling, you can generally refuse. In this case, add to it boiled eggs or fish from canned food. We cooked tuna today, but you can add absolutely any fish.
The filling can also be prepared with seafood and crab sticks.
But we remember that the more delicious the filling is, the tastier the whole snack will be. Therefore, before stuffing tomatoes, try stuffing. If you feel that you want to add something, then add!
Garlic can either be added or not added. This is optional.
Mayonnaise can be replaced with sour cream, or you can add these ingredients in different proportions. And it is possible to refuse them altogether, in the case when we are preparing a dish with fish.
The shape of the fruit may also be different. You can simply cut off the lid, you can slice a vegetable and figure out its teeth. You can cut it into circles and put the stuffing on them.
And you can create such a work of culinary art as «tulips». We think over the form ourselves depending on the scale of the holiday.
And finally marinated stuffed tomatoes. The filling is mostly always made from greens and garlic. But with the marinade you can always experiment.
This version of the recipe can be considered neutral. And if you add more sugar, they will turn out sweet. If you add more red pepper, then the snack will be more spicy.
It is not by chance that I describe everything in such detail in such a detailed manner. After all, knowing the basic mechanism, you can cook a new dish each time, with a completely different taste. It would seem that the products are the same, and the dish is completely different, new!
And I really want this to be the case with you. And so that your New Year's table was always full, and that everything on it was tasty!